Aluminum Tube Filling and Sealing Machine Description
Aluminum tube filling and sealing machine is a special packaging equipment specially used for precise filling and sealing of aluminum tubes for various products, such as creams, ointments, adhesives, medicines and other semi-solid or liquid substances. This machine is made of 3024/316 grade stainless steel, in line with GMP standards; controlled by touch screen and plc, with high degree of automation; fast filling speed, high filling accuracy; to meet the diverse output needs of customers.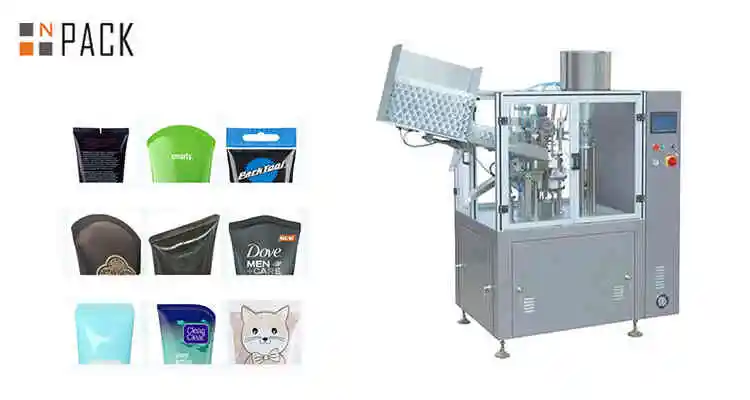 1. Aluminum tube feeding and orientation:
Aluminum tube loading: Aluminum tubes are usually loaded onto conveyor belts and then transported to the filling head.
Aluminum tube direction: Ensure that the open end of the aluminum tube is aligned with the filling head to prevent overflow and waste.
2. Filling mechanism:
By accurately and consistently adding materials to each aluminum tube, the operator can adjust the filling amount to adapt to different product specifications and packaging requirements. At the same time, aluminum tube filling and sealing machines can handle various products from thin liquids to thick pastes.
3. Sealing mechanism:
Use a heat sealing mechanism to firmly seal the aluminum tube. Apply heat to the open end of the aluminum tube to form an airtight and tamper resistant seal.
Main Feature:
1. The machine adopts a fully enclosed dust cover, which is clean and hygienic, with a unique and beautiful appearance;
2. The whole machine is made of 304/316 grade stainless steel, which meets the GMP standard
3. It can be used for filling and sealing pipes of various specifications and viscous liquids, the sealing appearance is neat and the sealing is firm;
4. The filling speed and measurement accuracy are easy to adjust, the filling accuracy is high, and the performance is stable;
5. Adopting PLC control system, the operation is simple, intuitive and convenient, with complete functions and stable operation.