Antifreeze Filling Machine
Antifreeze Filling Machine is full automatic servo motor piston inline high speed bottle filling machine used for filling liquids, including shampoo, lubricating oil, edible oil, etc., with a filling range of 50ml to 5000ml; Provide 6, 8, 10, 12, and 16 nozzle configurations, equipped with pet bottle capping machines, oil bottle labeling machines, palletizing machines, and unboxing machines to form antifreeze production line to meet the diverse production requirements of customers, widely used in the food industry, daily chemical industry, personal care industry, chemical industry, and pharmaceutical industry.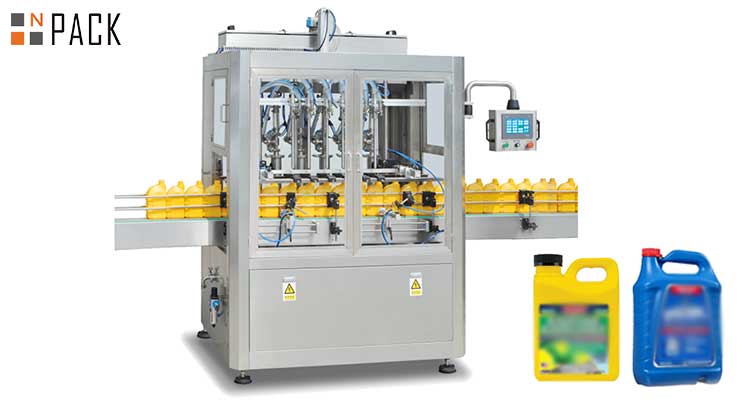 Main Feature
1. The electrical components are selected from international brands, with stable performance and long service life
2. According to the customer's generated needs, filling heads can be selected from 6, 8, 10, or 12 heads. The cylinder volume can be selected from 25-250ml, 50-500ml, and 100-1000ml.
3. Adopting servo motor and PLC control, the filling accuracy is high and the filling speed is fast.
4. The antifreeze filling machine is made of 304/316 grade stainless steel material, which meets GMP standards,
5. It can be filled up and down in a mobile way, effectively preventing foam, and easy to disassemble and clean.
6. The filling head has an anti drip function, which can effectively prevent dripping and wire drawing, ensuring filling accuracy
7.antifreeze filling machine, with a wide range of volume adjustment, suitable for automatic quantitative filling of 1-5L.
Workflow
Firstly, the conveyor belt conveys the jerrycan/bucket to the filling mechanism. When the jerrycan/bucket reaches the filling mechanism, the PLC of the filling machine coordinates the filling process: the filling nozzle is usually made of stainless steel and descends above the jerrycan/bucket. The antifreeze is pumped out of the hopper and filled into the jerrycan/bucket through the filling nozzle. Sensors monitor the position of jerrycan/bucket and ensure accurate filling to the specified volume. Once the correct volume is reached, the filling nozzle will retract to prevent overfilling. Secondly, the jerrycan/bucket will sequentially transmit the capping machine for capping or pressing, and finally, the jerrycan/bucket will transmit the labeling machine for labeling the jerrycan/bucket.
Npack is a professional oil filling machine factory that provides oil filling lines according to customer production needs. If you are interested, please contact us