Olive Oil Filling Machine
olive oil filling machine is specially developed  by NPACK(Npack is a filling machine capping machine labeling machine manufacturer with 12 years of experience), which can fill various types of viscous oil, such as olive oil, edible rapeseed oil, palm oil, etc; The entire body is made of 314/316 stainless steel and food grade hoses, which comply with GMP standards; Can be equipped with CIP cleaning function, one click cleaning to solve cleaning problems, making it an ideal equipment for filling oil liquids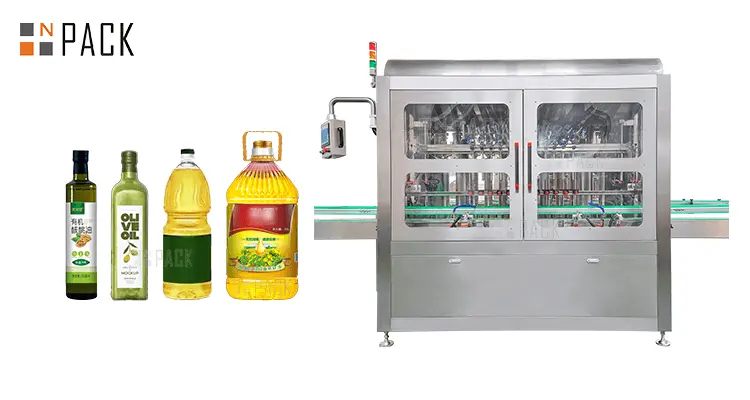 Olive Oil Main Features
1.304 stainless steel construction; food grade hose; GMP compliant; reduces risk of cross contamination; keeps food safe.
2.Use the anti-drip filling head, dive into the bottom filling, rise slowly, avoid air bubbles
3.The filling range of the whole machine is wide, the filling bottle types are many, the adjustment is convenient, and it can be completed in a short time to meet the diverse needs of customers
4.Provide customized services, design and develop machines according to customer output and samples, including customized filling volume, nozzle configuration, functional design, accessory brand selection, etc.
5.High filling accuracy ensures the consistency of the quantity of olive oil dispensed into each bottle, maintaining product quality; meeting regulatory standards.
6.PLC control system, high degree of automation, easy operation
7.Equipped with control panel, set emergency stop button, interlock system and safety protection device, monitor productivit
Workflow of Olive Oil Filling Machine
1.Preparation: Before starting the filling process, parameters such as filling volume and speed need to be set on the control panel, while also ensuring that there is sufficient olive oil in the hopper.
2.Bottle or container feeding: Empty bottles or containers are placed manually or by machine on a conveyor system that transports them to the filling station. Bottles are positioned in a consistent manner to ensure accurate filling.
3.Bottle positioning: The bottle or container will be automatically positioned under the filling nozzle. Make sure the spout dispenses the olive oil accurately into each bottle.
4.Filling process: Once the bottles are in place, the filling process begins. Olive oil is dispensed from the nozzle into the bottle. The volume of oil is controlled and dispensed by a volumetric system.
5.Capping or sealing: After the bottle is filled with olive oil, it is transferred to the capping machine. Achieves caps or lids placed on bottles, ensuring proper seal
6.Packaging and labeling: filled and sealed bottles may enter the bottle labeling machine mechanism to complete the labeling
7.Conveyor belt exit: The filled and packaged bottles continue to move on the conveyor belt system until they reach the exit point.