automatic inline capping machine
Automatic inline capping machine is spindle screw capping machine mainly used for firmly sealing containers, suitable for various bottle types, such as bottles with lids or seals, pump bottle, spayer bottle and trigger bottle, without the need to replace any bottle capping machine parts according to the size of the bottle. Widely used in industries such as pharmaceuticals, food and beverage, cosmetics, etc.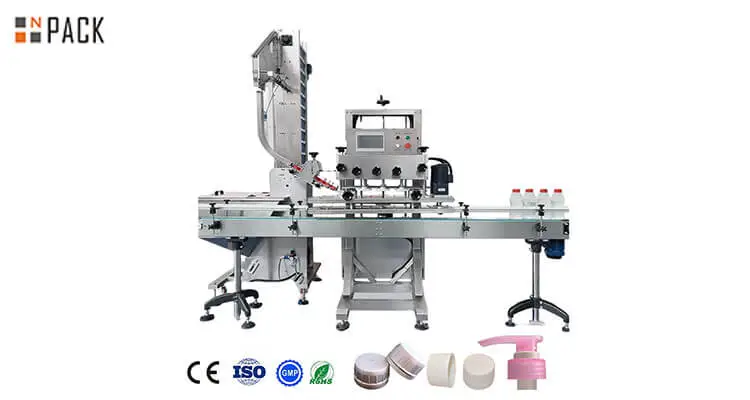 Automatic Inline Capping Machine Main Feature
1. The entire machine is made of 304/316 grade stainless steel material, which complies with GMP standards; The machine has a compact structure and a small floor area; Convenient factory layout; Stable performance, easy to use and maintain.
2. The fully automatic capping machine adopts PLC control, with high capping accuracy, English interface touch screen, and clear and easy to understand operation display
3. One capping wheel corresponds to one motor, ensuring that the capping function operates for a long time, with stable and reliable performance, consistent torque, and each capping wheel speed can be adjusted separately;
4. Strong flexibility, suitable for various types of covers such as iron covers, aluminum covers, pump covers, etc., with simple parameter adjustment to work
5. The bottle clamping belt can be adjusted separately and can be suitable for rubbing caps on bottles of different heights and shapes;
6. Automatic capping and automatic capping, with a high degree of automation and saving labor costs
Key components and working principles
1. Conveyor system: bottle cap tightening machine are often integrated with conveyor systems into the production line. The bottles or containers move along the conveyor belt and are brought one by one to the capping mechanism.
2. Cap Elevator: The elevator is responsible for supplying covers to the capping machine. Bottle caps are usually stored in a hopper and then fed into the cap chute of the capping machine.
4. Capping head: A six wheel capping machine usually has six capping heads responsible for screwing the lid onto the container.
5. Torque control: To ensure accurate capping, the capping machine is equipped with a torque control system that sets the torque according to the type of lid and container used.
6. Bottle clamping: The bottle clamping mechanism mainly fixes the containers in place to prevent them from rotating or moving when the sealing head is working.
7. HMI (Human Machine Interface): Equipped with a user-friendly touch screen interface that allows for setting screw cap parameters.
8. Safety function: The automatic bottle cap sealing machine is equipped with an emergency stop button, with a high safety factor
Precautions for capping machine?
1. Before operation, check whether the auto capping machine is operating normally and ensure that the press and twist capping machine is in normal condition.
2. Ensure that the size and shape of the bottle meet the requirements of the rotary capping machine to avoid bottle jamming
3. When using, it is necessary to follow the operating procedures of the automated capping machine to avoid safety issues