Bleach Filling Machine Description
Bleach filling machine is specially designed for corrosive chemical liquids such as bleach, pesticides, deodorants, etc. All contact parts are made of corrosion-resistant materials, with strong corrosion resistance and long service life; During the filling process, it mainly relies on its own gravity and high-level tanks for filling, with high filling accuracy; Equipped with Siemens touch screen, it has high human-machine interaction, simple operation, and high automation level; Integrated design, beautiful appearance, moderate volume, easy to design and layout
Bleach Filling Machines Advantages
1.Submersible filling and anti drip filling heads
The filling process adopts a bottom-up filling method to minimize the formation of bubbles, and the filling head has a suction function to ensure that there is no dripping or leakage during the filling process, without polluting the conveyor belt and bottle body. The accuracy of the filling machine can reach within ± 1%,
2.Color touch screen
PLC control and color touch screen operation make the filling control system more precise and reliable. Moreover, when filling materials with different specifications and densities, the parameters can be preset and stored, allowing for quick switching and simpler and more convenient operation.
3.Anticorrosive materials
All parts in contact with liquid are made of corrosion-resistant materials to reduce pollution during the filling process and ensure high filling accuracy
4.High quality electrical components,
The supporting components are all imported from well-known domestic and foreign brands, with reliable quality to ensure stable and reliable operation of the entire machine.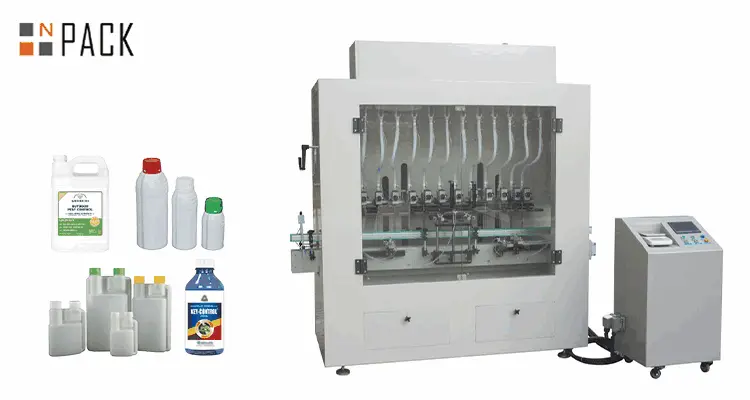 Bleach Filling Machine Main Feature
1. The bleach filling machine is a fully automatic linear liquid filling machine that automatically corrects and fills, with high human-machine interaction and automation, suitable for automatic filling of bottles of different specifications.
2.The Bleach filling machine is also suitable for bottles of different shapes, heights, and capacities, and can be debugged in just a few minutes, solving the problem of time-consuming and labor-intensive adjustments due to the wide variety and frequent machine adjustments.
3. PLC control system, color touch screen operation, simple and convenient, precise filling, arbitrary adjustment of production speed, and automatic counting.
4. Support customized production, and the number of filling heads can be determined based on user output. Available in 6 heads, 8 heads, 10 heads, or more.