Body Cream Filling Machine Description
Body cream filling machine is best choice for you
Body cream is a highly viscous liquid. Compared with lotion, it is usually thicker and has a thicker overall texture, making it difficult to fill. Npack has developed a new piston filling machine for the characteristics of body cream, which has the following advantages:
1. Using servo piston filling and PLC system, the automatic system that automatically distributes cream and lotion into bottles, the filling volume accuracy reaches 99%, high degree of automation, high production efficiency, and cost saving for enterprises
2. Equipped with u-type tank, which can store materials, and has the function of heating and stirring, so that the materials can be filled evenly
3. No bottle, no filling, equipped with sensor system, cut off filling when there is no bottle input or the filling mouth touches the bottle mouth, to ensure filling safety
Therefore, the piston filling machine becomes the ideal solution for companies packaging all kinds of creams and lotions.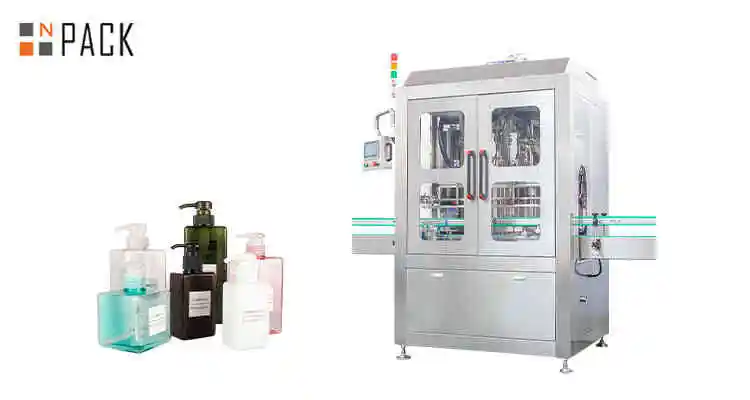 Body Cream Filling Machine Main Feature
1. Suitable for filling viscous liquids such as toner, cream, lotion, shampoo, detergent, etc.
2. The whole machine is linear, suitable for bottles of different sizes and shapes including special-shaped bottles, with stable performance
3. Piston filling system is adopted, with high filling precision, accurate measurement and simple operation
4. Equipped with a photoelectric detection system to accurately measure the number of bottles to prevent over-filling or under-filling
5. The whole machine is made of 304/316 grade stainless steel, corrosion resistance, long service life, in line with GMP standard
6.filling machine cream  has passed CE and ISO 9001 certification, with high quality and high safety factor
7.Support customized production, according to the output required by customers, this machine can be made into 4/6/8/10/12/14/16/18 filling nozzle
8.Equipped with a color touch screen, the operation is simple, one key to adjust the filling volume, and the degree of automation is high