Brake Oil Filling Machine Description
The brake oil filling machine is a advanced linear filling machine that is designed to ensure maximum precision, stability and reliability. Powered by a high-performance servo piston and advanced PLC controls, it is capable of precise and accurate filling. The machine is equipped with a linear piston filling system that enhances the level of control and accuracy, enabling it to adapt to a wide range of bottle sizes and shapes. Additionally, the machine has a large adjustment range, which enhances its overall flexibility and versatility.
Furthermore, the brake oil filling machine has a robust and durable construction that makes it suitable for the filling of a variety of liquids, including corrosive liquids, high viscosity and semi-liquid substances. It is also ideal for the filling of bubble liquids, which require a high level of control and precision. These features make the motor oil filling machine ideal for use across a range of industries, including the food, daily chemical, and pharmaceutical industries, among others.
The automatic thick oil filling machine is mainly used for fully automatic online dispensing of liquids, filling volumes ranging from 50ml to 1000m, supporting 6, 8, 10, 12 and 16 nozzle configurations to meet specific production requirements. The whole machine is made of 304/316 stainless steel, controlled by PLC and piston, equipped with a color touch screen, and can set parameters in one piece, which improves work efficiency and saves enterprise costs.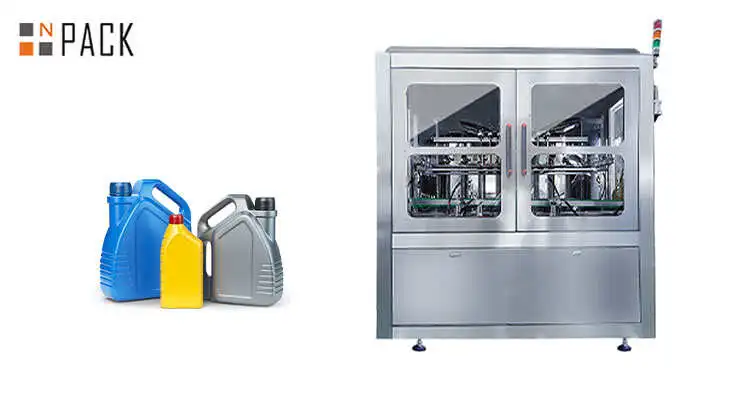 Main Feature
1. Adopting volumetric measurement method, with high measurement speed and simple device.
2. The filling head design has a suction function, ensuring no residual oil leakage during the filling process and high filling accuracy
3. Provide customized one-stop services, designing and manufacturing according to customers' different products, bottles, caps, packaging methods, and capacities.
3. High degree of automation, automatic bottle loading, automatic filling, and automatic bottle output during the filling process, without manual intervention, resulting in high production efficiency
4. Equipped with anti drop function, effectively preventing liquid from overflowing the bottle mouth
5. Colorful multilingual touch screen, one click setting of filling speed and capacity, easy to adjust
6. The entire machine is made of 304/316 grade stainless steel, with strong corrosion resistance, stable performance, and compliance with GMP standards