Cold Glue Labeling Machine
Cold glue labeling machine, also known as wet glue labeling machine, is a inline industrial label applicator machine specifically used for pasting bottle labels. Specially designed for round bottles, suitable for labeling various round bottles. Widely used in industries such as food, medicine, and daily chemicals.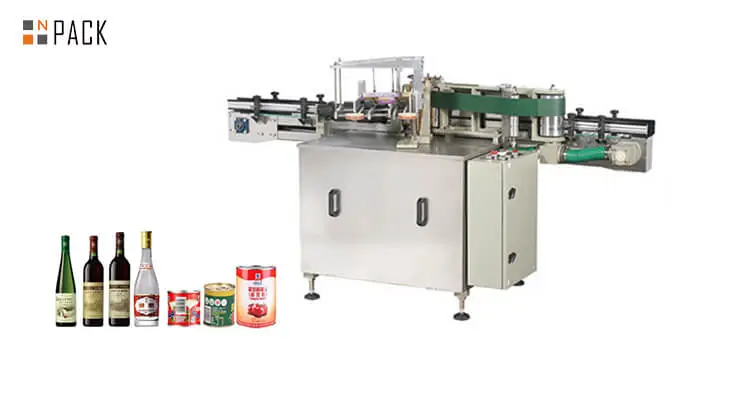 Cold Glue Labeling Machine Main Feature
1. The entire machine is made of 304/316 grade stainless steel material, which meets GMP standards
2. Equipped with a Siemens touch screen, the operation interface is friendly and easy to set. The main functions include: product counting, output equipment, multiple sets of parameters, equipment status monitoring, automatic shutdown of equipment faults, alarm prompts, etc
3. Automatic photoelectric detection, without bottle or label, automatic calibration or alarm automatic detection function, to prevent leakage and waste of labels
4. It can work independently or form an automated production line with bottom filling machine and bottom capping machine
5. For containers and labels of similar sizes, there is no need to replace any parts, and production can start with slight adjustments.
6. Servo motor and PLC control, high precision labeling machine
7. Optional ribbon coding machine and inkjet printer, which can print production batch number, production date, and other information for labeling and inkjet integration
Working Principle
Automatic wet cold labeling machine is designed specifically for labeling round bottles and is suitable for various types of round bottle labeling. Economical and easy to operate, stable performance, flat and aesthetically pleasing labeling effect. The working process of the machine is to first bond the resin adhesive with the adhesive rod, then transfer the label to the adhesive rod through the label box, rotate it through vacuum and adsorb it onto the vacuum belt, and then stick the label onto the round bottle.
Therefore, NPack's wet glue labeling machine manufacturer with over 12 years of experience will meet your needs and provide one-stop customized services. If you are interested, please contact us