Cooking Oil Filling Machine Description
The cooking oil filling machine is a volumetric oil filling machine developed by npack (filling capping labeling machine manufacturer). It uses a Panasonic servo motor to drive the piston pump, which has high speed and high filling accuracy; it can meet the quantitative filling of any number within the 500ML-5L filling range. According to the filling volume required by customers, it can be made into 4 filling heads/6 filling heads/8 filling heads/10 filling heads/12 filling heads, 16 filling heads filling heads and 18 filling heads etc. It can also be used with packaging equipment such as automatic capping machines, labeling, coding, packaging machines, etc.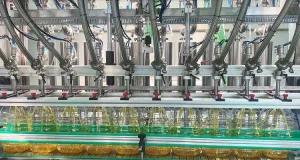 Cooking Oil Structure and components:
The cooking oil filling machine is usually composed of a strong frame made of 304/316 food grade material, which is highly resistant to corrosion, clean and hygienic, and has a long service life. There are mainly the following parts
1. Conveyor system, the main function is to distribute empty containers (such as bottles, jars or cans) under each filling head.
2.u-type tank: store filled liquid oil, convenient for automatic filling
3. Filling head: The filling head (depending on the customer's output, customized configuration) fills the oil into the empty container, precisely controls the flow of edible oil, and implements quantitative filling
4. Servo piston system: precise control of the entire filling process, with an accuracy of ±0.1%
5. Control panel: The control panel of the HMI (Human Machine Interface), which is used to set parameters, adjust settings and monitor the performance of the machine.