Deodorant Filling Machine Description
Deodorant filling machine is a chemical filling machine, which is a linear filling machine  and belongs to the piston type filling machine. Its main function is to fill deodorant into bottles. It can be used for hand sanitizer, shampoo, gel and other liquids. The entire machine adopts a servo piston system and PLC control, with color touch screen operation to achieve automatic calibration, counting, and filling. Reduce manual intervention and achieve a high degree of automation, making it an ideal linear filling machine for small and medium-sized enterprises to fill viscous liquids
Deodorant Linear Filling Machines Advantages
1. Servo piston system and PLC control
The entire filling process is mainly controlled by a servo piston system and PLC, which can achieve high-precision quantitative filling with a filling accuracy of up to 1%
2. Submersible filling
During the filling process, insert the 304/316 grade filling head into the bottom of the bottle for filling, effectively reducing the problem of foaming. The filling head has a drip proof function to ensure filling accuracy
3. Made of 304/316 grade stainless steel material
The entire machine is made of 304/316 grade stainless steel material, with strong corrosion resistance, long service life, integrated design, strong sealing, effectively reducing dust and other pollution, and complying with GMP standards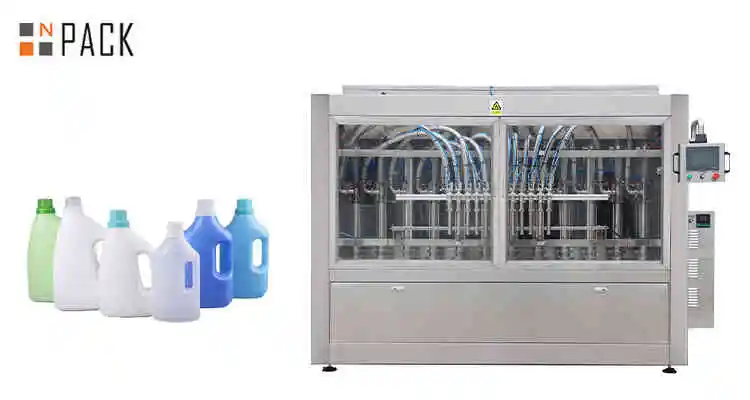 Deodorant Filling Machine Main Feature
1. Adopting linear grouping for entering and exiting bottles, the filling speed is fast, and it is convenient to quickly adjust and fill various forms of containers.
2. The filling head has a drip proof function, ensuring no dripping during the filling process and ensuring filling accuracy
3. Color touch screen, user-friendly human-machine interface settings, allowing direct operation of filling speed, filling capacity, filling method, and more on the touch color screen
4. The photoelectric detection system can quickly detect the number of filling containers and can also automatically calibrate, making the container directly below the filling head.