Engine oil filling machines can be divided into semi-automatic engine oil filling and fully automatic engine oil  filling machines according to the degree of automation of the equipment.
The automatic engine oil filling machine adopts an intelligent control system, one-button switching, automatic filling, automatic feedback, automatic proofreading, no filling without bottle. The whole process is fully automated. The semi-automatic engine oil filling machine refers to that in addition to filling, it is mainly operated manually, such as manual bottle placement, manual proofreading, manual bottle changing, etc., and the speed is extremely slow.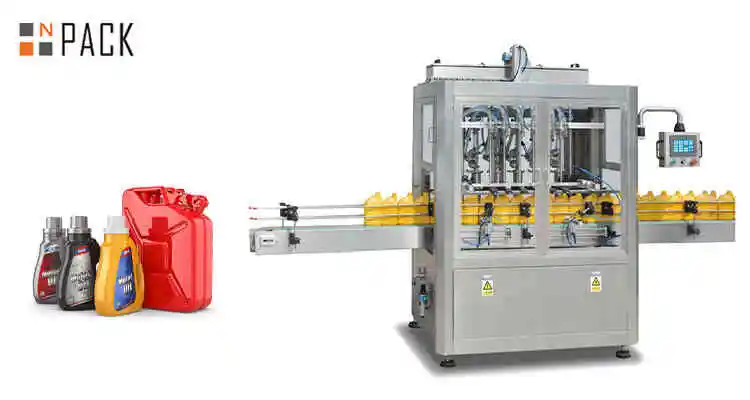 Main Feature
1. 2-18 heads can be customized according to the actual filling needs of customers, compatible with various bottle types and barrel types, easy to operate, and stable in performance.
2. Piston filling and servo control system are adopted, the filling process is accurate and reliable, and the accuracy can reach ±0.1%, which is convenient for switching between various filling capacities
3. The piston filling machine occupies a small area, which is convenient for customer layout and saves enterprise costs.
4. The filling head has anti-drip function, no dripping or leakage during filling, and high filling accuracy
5. The touch screen has a friendly interface, supports multi-language switching, one-key setting parameters, simple operation, stable performance and excellent quality.
6. The oil filling machine is linear, easy to adjust, suitable for switching between various bottle types
Maintenance Method
1. Follow the manufacturer's guidelines and maintenance manuals and guidelines for specific maintenance procedures and recommended intervals.
2. Regularly clean parts such as filling nozzles, conveyor belts and hoppers, remove spilled oil, debris or dust, and keep the machine clean.
3. Regularly and properly lubricate all moving parts, bearings, and mechanical parts using the manufacturer's recommended lubricant.
4. Regularly check the flow control system to ensure its accuracy in filling
5 Regularly check electrical connections, wiring and components to reduce the occurrence of circuit failures
6 Regularly check the wear of the conveyor belt and rollers, and replace them if necessary.