Face Cream Filling Machine Description
The face cream filling machine is a highly specialized packaging machine equipment that plays an important role in the cosmetics and personal care industry. The main function of the cream filling machine is to fill the container with cream and other paste materials efficiently and accurately. Unlike the manual filling method, this machine automates the filling process, with faster speed and higher precision, which greatly improves production efficiency and saves production. cost.
face cream filling machine consists of several basic components and functions, including a hopper for storing the cream, a filling spout for dispensing the cream into containers, a conveyor system for transporting glass jars, a volume for regulating the amount of cream Controls the dosing system of the rotary lobe pump and the capping system for sealing the filled glass jars of face cream.
In addition, the face cream filling machine produced by npack has a user-friendly interface that allows the operator to set parameters, monitor the filling process and make adjustments as needed.
Finally, the cream filling machine is usually made of 304/316 grade stainless steel to ensure that the cream is safe and free from contamination. It is a popular cream filling machine in the market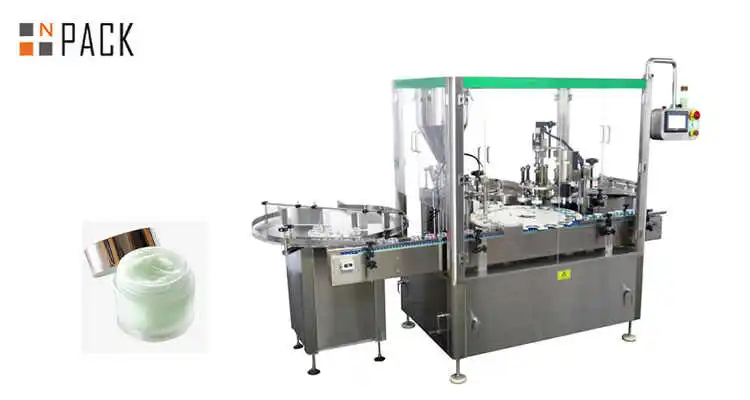 Face Cream Filling Machine Main Feature
1. The whole body is made of 304/316 grade stainless steel, and at the same time uses special hose for food, which is suitable for medicine, food and other industries;
2. Adopting the lobe pump filling metering method and PLC control system, the filling accuracy is high, and the cleaning is simple, suitable for liquids with high viscosity such as paste
3. Equipped with a u-type hopper with stirring function, which can be stirred and filled at the same time
4. The structure of the whole machine is compact and clear, easy to adjust and stable in performance
5. With a color touch screen, it has a high degree of automation, and it is easy to set and adjust the filling parameters, just one click