Hair Oil Filling Machine Description
The hair oil filling machine is a servo motor linear piston filling machine, it can fill viscous liquids, such as hand sanitizer, laundry detergent, detergent, soy sauce,vinegar, edible oil, paint, oyster sauce, honey, etc. .
The hair oil filling machine adopts PLC control and servo quantitative filling to achieve high-precision filling. The touch screen, filling cylinder, filling head and other accessories are selected from well-known brands, with high quality and long service life. The performance of the whole filler machine is stable. Wide filling range, can be filled from 50ml gallon to 5l gallon, and can be filled in a wide range of bottle types, such as Shampoo Bottle With Flip-Top Cap, Shampoo Bottle With Pump Cap, Flat Shampoo Bottle and so on
The hair oil filling machine can also be combined with bottle capping machine and bottle label applicator to form a shampoo production line. The shampoo capping machine can tighten pump cap, Flip-Top Cap, trigger cap, Disc Dispensing Cap, PP Shampoos Bottle Cap and so on ; Shampoo bottle labeling machine can accurately label round bottles, flat bottles, square bottles, plastic bottles, etc.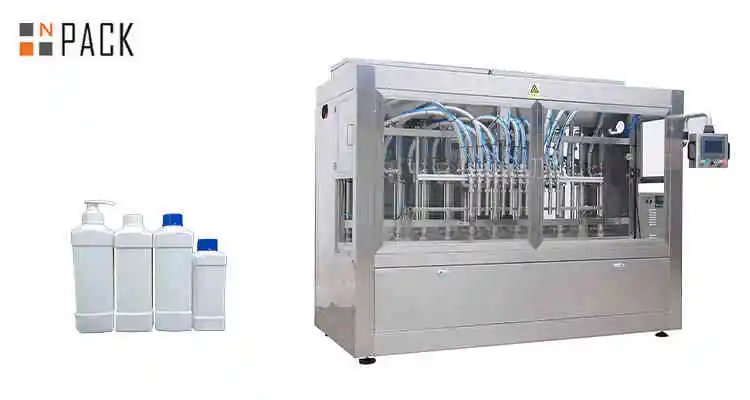 Hair Oil Filling Machine Main Feature
1. The filling nozzle has an anti-drip device to ensure that there is no wire drawing or dripping during the filling process, and the filling accuracy is high.
2. It adopts submerged filling, which is suitable for filling liquids that are prone to foaming, and can effectively prevent the filling material from foaming or splashing.
3. The whole machine is made of 304/316 stainless steel, which is easy to disassemble and clean, and meets the requirements of GMP.
4. Color touch screen, one-button setting, can quickly adjust and replace bottles of different shapes and specifications, and has strong applicability.
5. The electrical and pneumatic components of well-known brands are used, with high quality, stable and reliable performance, and long service life.
6. The filling volume and filling speed can be easily adjusted, the function of no bottle no filling, automatic liquid level control, high-precision filling, and beautiful appearance.