Hand Wash Liquid Filling Machine Description
Hand Wash Liquid Filling Machine is Best Choice for You
Napck is an innovator in the liquid packaging machine industry, offering a wide range of liquid filling machines, bottle capping machines, bottle labeling machines and bottle washing machines, including: rotor pump filling machines, overflow filling machines, weighing filling machines machine,gravity filling machine, round bottle labeling machine, etc.
Hand wash liquid filling machine is a fully automatic piston filling machine developed and designed by Npack. The viscosity of hand wash liquid is high, and it is easy to foam during the filling process, resulting in problems such as low filling accuracy and easy dripping. The filling machine is suitable for liquids that are prone to foaming, while using submersible filling, it usually does not cause foaming, if foaming occurs, please move the piston slowly to minimize foaming. Therefore, the piston filling machine is the most suitable for filling hand wash liquid.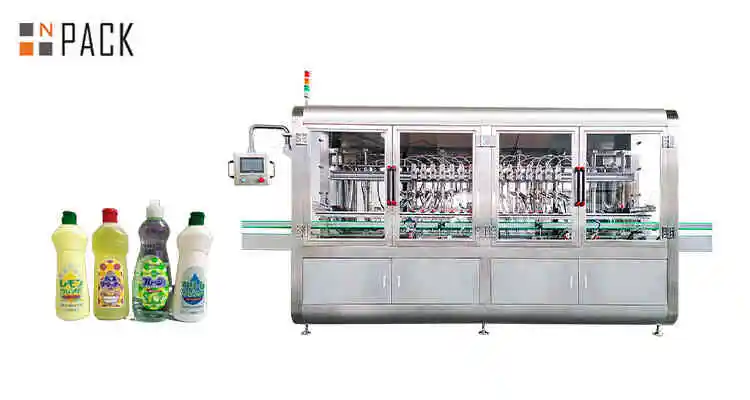 Hand Wash Liquid Filling Machine Main Feature
1. Submersible filling, the filling process effectively reduces the problem of foaming
2. The piston filling system has high filling accuracy and is suitable for filling liquids that are prone to foaming
3. The contact parts are all 304/316 grade stainless steel
4. The entire machine adopts an integrated design, with a beautiful and generous appearance, a small footprint, and a bias towards layout
5. Friendly human-machine interface, color touch screen, which can basically complete all operations on the touch screen
6.It can be used together with hand soap screw cap machine and bottle label application to form a  bottle filling capping label machine
7.Adopting high-quality components such as PLC, optoelectronics, and touch screen, it has a long service life and is easy to operate and adjust the system.
Therefore, please let me know the shape and production capacity of the hand sanitizer viscosity bottle, and our sales team will provide you with professional customized services.