liquid soap bottle filling Machine Description
The liquid soap bottle filling machine belongs to the chemical high viscosity filling machine and is a specialized fully automatic liquid soap packing machine for daily chemical factories. It mainly fills hand soap into empty bottles with high automation, less manual intervention, improved production efficiency, and saved enterprise costs. It is an ideal liquid soap filling equipment for enterprises,
The working principle of Liquid soap bottle filler machine is to transport empty bottles under the filling head, and then fill the empty bottles with liquid soap. The PLC and piston control system control the flow of soap to ensure accurate and consistent filling of bottles. Compared to manual liquid soap filling machine, this helps save time and reduce errors. This machine is crucial for volumetric liquid soap filling production lines as it can accelerate the process and ensure efficient and clean packaging of soap.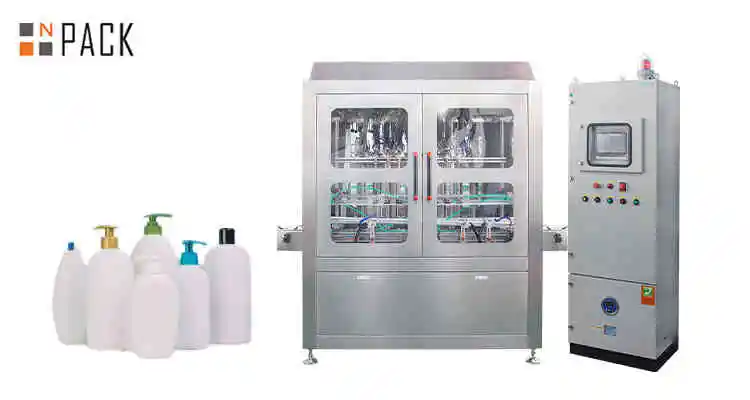 liquid soap bottle filling machine main feature
1. Adopting a multi head and multi pump filling technology, with independent control and easy adjustment.
2. The filling speed can be customized according to the user's production volume and the number of filling heads.
3. When using different containers for filling, the filling specifications can be switched within a few minutes;
4. Paired with a color touch screen, the interface is concise and clear, easy to operate, and tasks can be completed without the need for professional personnel.
5. When filling, the filling head sinks into the bottom of the bottle and slowly rises, effectively preventing bubbles, without dripping or drawing.
6.PLC control and piston filling system, with fast filling speed, high filling accuracy, strong control, and support for various personalized settings.
7.It can be used together with liquid soap screw cap machine and liquid soap label application to form a liquid soap bottom filling capping label machine