Mustard Oil Filling Machine Description
Mustard oil is a vegetable oil mainly extracted from mustard and black mustard. The color is light yellow. It is rich in trace elements and meets the nutrition needed by the body. It is a popular edible oil and condiment in Southeast Asia. The market demand is strong. Therefore, npack designs and produces a mustard oil filling machine based on the characteristics of mustard oil.
The mustard oil filling machine is a volumetric quantitative filling machine, which adopts an in-line structure, one head and one pump filling method, and has high filling accuracy; the whole machine is made of 304/316 grade stainless steel, which fully complies with GMP standards; it can fill a large amount of raw materials in a short time; it is equipped with a u-type tank, which has the function of heating and stirring; CIP one-button cleaning, easy to operate; improve production efficiency and save production costs.It is the ideal machine for filling oil.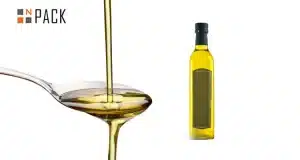 Mustard Oil Filling Machine Main Feature:
1. The connection between the filling head and the food-grade pipeline adopts a quick connection, which is convenient for quick cleaning and replacement.
2. The mustard oil packaging machine supports customized production of 2, 4, 6, 8, and 12 filling heads according to the needs of customers.
3. The whole body is made of 304/316 stainless steel, which meets the food-grade filling requirements, has strong corrosion resistance and long service life
4. No filling without bottle, automatic calibration, emergency stop button, high safety performance
5. High degree of automation, automatic bottle feeding, filling and bottle discharging can be realized in the whole process.
6. Use the submerged filling head to effectively prevent dripping
7. The mustard oil bottle filling machine adopts piston servo drive for filling, with high filling precision and fast speed
8. The mustard oil bottle filling machine is linear as a whole, with simple structure, small footprint and easy to use.
9. Color touch screen display, one key to adjust any parameter.