Pesticide Filling Machine Description
The pesticide filling machine belongs to the anti-corrosion filling machine, which is used to process and fill corrosive or corrosive liquid, such as acids, bleach,deodorant, and other chemically reactive liquids, without affecting the structural integrity and service life of the machine. The anti-corrosive filling machine is an ideal liquid filling equipment for filling corrosive materials. It can also be paired with packaging equipment such as bottle sorting machine, capping machine, aluminum foil sealing machine, spray code machine, high-speed unboxing machine, dividing machine, liquid packing machine, stacking machine, etc. to form a anti-corrosion liquid bottling machine.
 Pesticide Filling Machines Advantages
1. Anti corrosion filling head: Adopting anti-corrosion filling head, it can fill corrosive liquids such as bleach, disinfectant, water deodorant, etc. to ensure filling quality and accuracy
2. Corrosion resistant materials: The main structure of the pesticide filling machine is made of highly corrosion-resistant materials. Usually, materials such as stainless steel (including specific grades such as 316L or 904L), PTFE (polytetrafluoroethylene), and other corrosion-resistant alloys are used to ensure the functional integrity and service life of the machine when filling corrosive liquids.
3. High degree of automation: The PLC touch screen is controlled with one button, and a fault alarm is set. All program actions are clearly displayed on the touch screen, indicating a high degree of automation.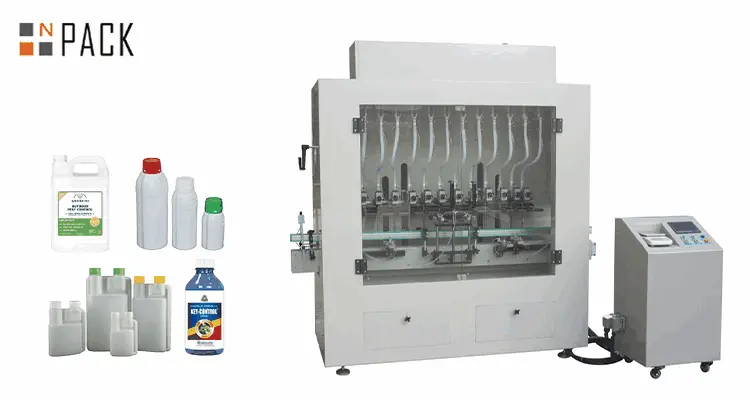 Pesticide Filling Machine Main Feature
1. The liquid flow is mainly controlled through a flow meter, with high filling accuracy and fast filling speed
2. The entire machine uses corrosion-resistant materials to ensure the accuracy and quality of filling, without affecting the structural integrity and service life of the pesticide filling machine.
3. Color touch screen, with one set filling speed, filling capacity and other coefficients, simple and easy to operate, and high degree of automation
4. Tight positioning design, easy adjustment, suitable for packaging various sizes of bottles.
4. The entire machine adopts an integrated design, with a beautiful and generous appearance, a small footprint, and a bias towards layout
6.It can be used together with pesticide bottle screw cap machine and insecticides bottle label application to form a  wide mouth pesticide bottle filling capping label machine
7.Adopting high-quality components such as PLC, optoelectronics, and touch screen, it has a long service life and is easy to operate and adjust the system.