Press Capping Machine
Press capping machine, also known as snap capping machine, is a linear capping machine, including a cap feeding system, an upper cap system and a cap locking system. The machine has a simple structure, easy adjustment, strong adaptability, fast production speed, high qualification rate, and high pressure It has good performance after capping and is suitable for bottle-shaped glands for food, soy sauce, vinegar, and vegetable oil. It is widely used in food, beverage, cosmetics, chemical and other industries.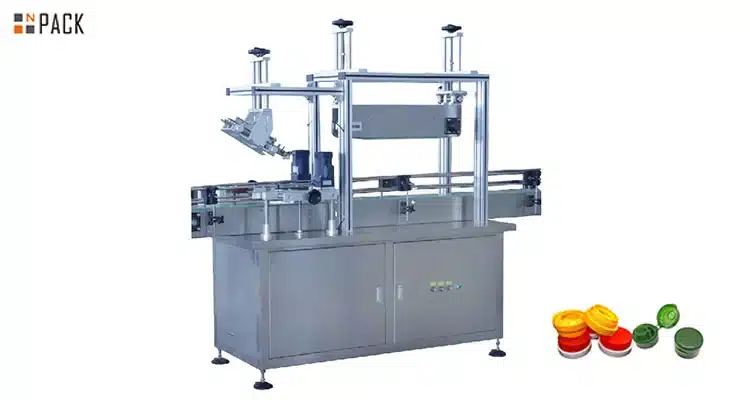 Press Capping Machine Main Feature
1. Made of 304/316 grade stainless steel, with strong corrosion resistance and long service life.
2. Adopting PLC control, with a touch screen in both Chinese and English, easy to operate and one click settings;
3. The bottle clamping belt can be adjusted separately, suitable for bottles of different heights and shapes
4. The capping rotary capping machine has fast capping speed, stable operation, wide adjustment range, and can form a production line with the filling machine labeling machine.
5. The adjustment of the capping machine is simple. When replacing products, only the clamping devices and capping components on the capping machine and capping machine need to be adjusted, without the need to replace any parts.
Press Capping Machine Framework and structure:
The press snap capping machine is usually composed of a sturdy frame made of 304/316 grade stainless steel, with strong stability and long service life.
The capper machine has a conveying system that transports bottles to the bottom of the capping head to complete the capping of the bottles.
Capping head:
The core of the bottle capping machine is the capping head. Mainly by grasping the lid and applying the necessary force to seal it onto the container.
The sealing head is customized according to customer needs to adapt to various sizes and types such as screw caps, snap caps, and pressed in caps.
Capping system:
The cap elevator orderly supplies the bottle cap to the sealing head. Common bottle cap supply mechanisms include vibrating bowl feeders, bottle cap elevators, or bottle cap classification systems.
Torque control:
In order to accurately seal the lid and avoid the phenomenon of the lid being tightened too tightly or not tightened enough. Therefore, capping machines typically include torque control functions.
Security settings:
The machine is equipped with emergency stop buttons and protective devices to protect personnel using the equipment.