Single Head Capping Machine
Single head capping machine is a small equipment used to tighten various bottle caps, which is suitable for capping with different materials and specifications, such as spray trigger caps, spray caps, pump caps, round bottle caps, anti-theft caps, aluminum caps, etc. Adjustable capping torque, fast production speed, stable operation, and no damage to the bottle cap during the capping process. It is the best screw capping machine in industries such as food, beverage, pharmaceuticals, cosmetics, and chemical engineering.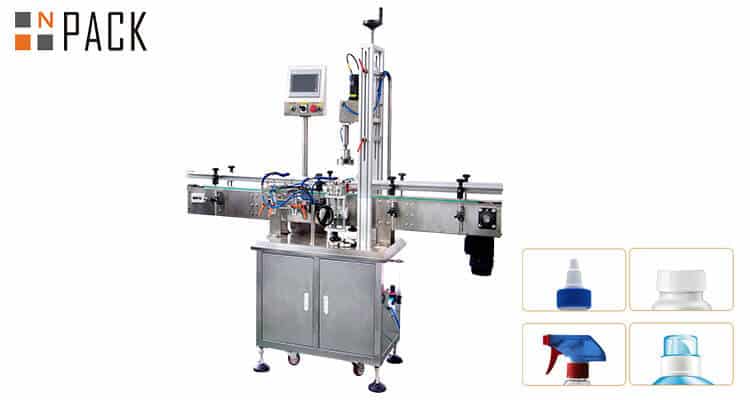 Main Feature
1. Made of 304/316 stainless steel material, with beautiful appearance, strong corrosion resistance, long service life, and compliance with GMP standards
2. Equipped with imported photoelectric sensors, there are no bottles during the capping process and the capping pass rate is high
3. Servo motor and PLC control, torque controllable, without damaging the bottle cap, simple operation and adjustment to adapt to different specifications and sizes of caps.
4. The use of imported components ensures stable machine performance and facilitates linkage with other equipment, forming a bottle production line and improving productivity.
Single Head Capping Machine Structure
1. Stainless steel frame: The frame of the automatic single head screw capping machine is mainly made of 304/316 stainless steel material, which has good support and stability.
2. Conveyor system: Bottles/cans to be capped are fed into the machine through the conveyor system.
3. Cap Sort: Install the screw cap into the cover hopper, which usually vibrates or agitates to ensure a consistent bottle cap is provided to the sealing head.
4. Capping head: Capping head is a key component responsible for covering the spiral cap onto the container.
5. Height adjustment: The height of the sealing head can usually be adjusted by a handwheel to accommodate various sizes and shapes of bottles and jars.
5. Control panel: Other parameters such as setting parameters, adjusting cover speed, etc. can be set through the touch screen
Single Head Capping Machine Workflow
The bottles/jars are loaded onto a conveyor belt, which transports them to the capping mechanism section. The capping machine distributes the lids to the capping heads. When the bottle/jar reaches the capping mechanism, the capping head descends, grabs the lid, and covers it onto the opening of the container. Spindle screws cap onto the container to provide a tight and safe seal. Then the sealing head is retracted, and the sealed container continues to be further processed or packaged down the conveyor belt.
Npack is a professional bottle capping machine supplier. If you are interested in full automatic spindle capping machine, please contact us