Vacuum Capping Machine
vacuum capping machine is developed by NPACK based on years of production experience. It mainly sealing bottle cap through vacuum sealing or pressure reduction. This sealing process helps to maintain the freshness and quality of sauce products inside the container. It integrates automatic bottle feeding, automatic capping, automatic vacuum capping, and automatic bottle discharge. It is an ideal automated capping machine for metal cap/jar in industries such as food sauce, beverages, and health products.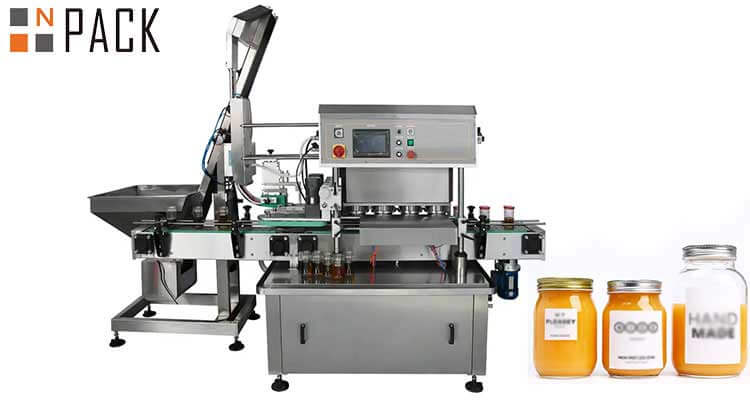 Main Feature
1. The frame, components, and shell of the fully automatic vacuum capping machine are mainly made of 304/316 grade stainless steel, with a long service life, beautiful appearance, easy cleaning, and compliance with GMP standards;
2. The fully automatic vacuum capping machine equipment is controlled by PLC and servo motor, with high capping qualification rate, low failure rate, and stable and reliable performance
3. The entire machine adopts advanced sensing elements and photoelectric sensors, effectively avoiding the phenomenon of bottle jamming and empty rotation, ensuring that there are no bottles and no caps.
4. auto capping machine integrates automatic capping, capping, and automatic vacuum capping, with fast production speed, high efficiency, and stable and reliable operation.
5. twist off vacuum capping machine has strong applicability and can be suitable for containers of different specifications such as round, square, oval, etc. with simple adjustments
Vacuum Capping Machine Workflow:
Firstly, the Glass jar/bottle is loaded onto the conveyor belt and transported to the capping mechanism.
Secondly, the vacuum head descends above the container and initiates the vacuum process to remove air from the container.
Then, the sealing head covers the lid onto the container with the required torque.
Finally, the sealed container is transported away from the sealing mechanism for steps such as labeling and sealing.
Npack is a professionalg lass jar bottle vacuum capping machine manufacturer. If you are interested in cap sealing machine, please contact us