Automatic Wine Filling Machine
wine filling machine is a specialized filling machines used to efficiently fill wine/spirit bottles or other similar alcoholic beverages. This machine is also suitable for filling viscous liquids such as honey, oil, and shampoo. Usually used in breweries and wine bottling plants to simplify the bottling process. This machine has a high degree of automation, and various parameters can be adjusted online, making it easy to adjust. It can also be used with wine ropp capping machine, wine bottle labeling machine, coding machine and other packaging equipment to form wine filling production line.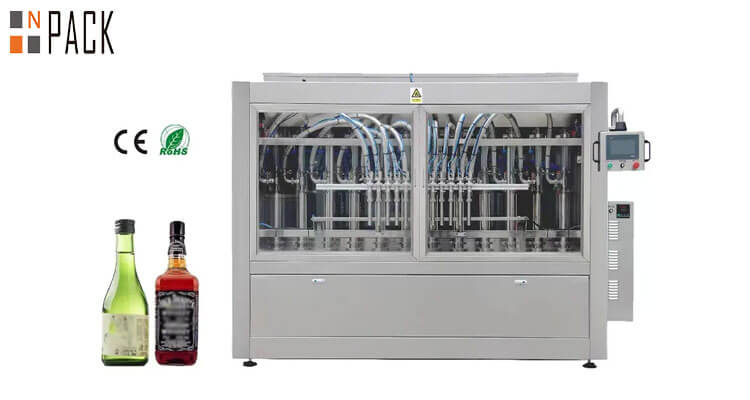 Automatic Wine Filling Machine Main Feature
1. The fully automatic wine bottle filling machine adopts 304/316 stainless steel material and food grade filling hoses, which have a beautiful appearance, comply with GMP standards, are clean, hygienic, and easy to clean.
2. The degree of automation is high, the structure is compact, and the operation and maintenance are very convenient, which can effectively save production costs.
3. The filling liquid machine is equipped with a u-type tank, effectively preventing salt crystallization accumulation and avoiding the volatilization of high concentration alcoholic beverages; No dead corners, easy to clean.
4. The liquid filler machines adopts filling nozzle with anti drip function to avoid dripping during the filling process and ensure the accuracy of filling.
5. Use 304 grade stainless steel filling head, with a submersible design to prevent dripping; We can customize the configuration of 2/4/6/8 filling heads according to the customer's production volume.
6. The flow control devices of each filling head are independent of each other, easy to adjust, and have high filling accuracy
7. The entire filling process is controlled by servo motors and PLC, with fast filling speed and high filling accuracy
8. Equipped with color touch screen, with clear display and multiple parameter memory functions, easy to use.
9. It adopts precision sensors with self checking function, and can automatically stop filling when there are no bottles or bottles are damaged.
10. It has features such as timed filling, no bottle filling, and counting of filling quantity/output.
Here are some common questions (FAQs) about wine filling machines:
What types of automatic wine filling machines are there?
There are various types of wine filling machines, mainly divided into gravity filling machines, vacuum filling machines, and piston filling machines according to the filling method.
How does a wine bottle filling machine work?
The working principle of  filling machine wine is usually to place the bottle on a conveyor belt to the filling head, fill it to the required volume, and then transfer the filled bottle to a capping machine, cover it with a lid or cork, and frequently label it.
Can wine filler machines be customized to meet the needs of specific wineries?
Of course we support it. NPACK has improved its one-stop customized service by customizing production according to customers' bottle, production capacity, speed, origin, and other needs