Ampoule Labeling Machine
Ampoule labeling machine and automatic ampoule sticker labeling machines by npack are designed for non-vertical cylindrical containers or vertically unstable products, including ampoules, vials, crayons, lip balm  battery, etc. In addition to ampoule labeling machines there are vial labelling, syringe labeling and tube labeling machines, which are specialized packing equipment used in the pharmaceutical, medical and cosmetic industries for labeling ampoules.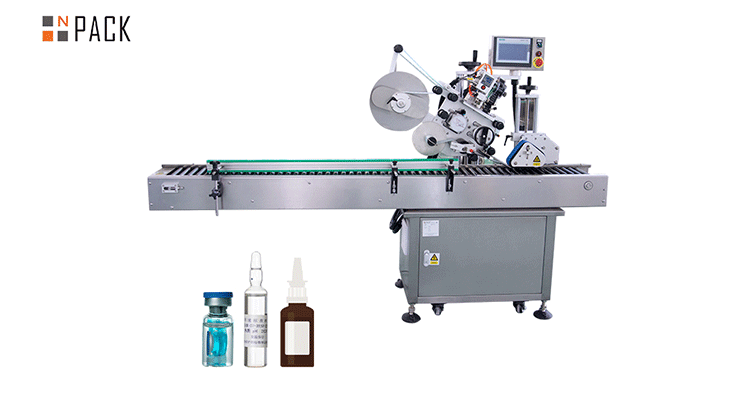 Ampoule Labelling Machine Main Feature
1. Configure a Siemens color Chinese and English touch screen, allowing operators to set parameters, change label design, and monitor the labeling process.
2. Using servo motors and PLC control to avoid manual labeling problems, labeling skewness, bubbles, wrinkles, irregularities, and other issues.
3. The overall material is made of stainless steel, with a beautiful surface and high equipment stability
4. Optional color band coding machine, heat transfer printing coding machine, and inkjet coding machine. Labeling can simultaneously print production batch number, production date, and other information, achieving integration of labeling and coding, reducing packaging processes, and improving production efficiency.
 Optional Function and components
1. Ribbon coding machine: can print production date and batch number
2. Industrial zebra engine: can be used for transcoding printing, docking with system software, etc., and integrated into the labeling machine for real-time printing function
3. Transparent label detection: Applicable to all labels, including gilded, transparent, paper, or composite S material labels. When changing different labels, there is no need to replace the sensor. Transparent label detection on the lower lining of the transparent label
4. Visual inspection removal: It can detect whether the label is present or not, and whether the information printed on the label, batch number, and content are correct
5. Heat transfer intelligent coding machine: It can print QR codes, barcodes, production dates, batch numbers, and other printing functions on label paper, and can achieve product traceability, anti-counterfeiting, and anti-counterfeiting
6. Inkjet Printing Machine:Realize production date, batch number, and other information while labeling
FAQ About Ampoule Labeling Machines:
Here are some common questions (FAQs) about ampoule labeling machines:
Q1.What types of labels can the ampoule labeling machine apply?
These machines can handle various types of labels, including stickers, non drying films, electronic regulatory codes, barcodes, and other specialized labels, depending on the customer's needs.
Q2.Can the ampoule labeller machine be labeled in different directions?
Yes, the ampoule labeller machine can label in different directions, such as surround, side, or top labels, depending on the customer's needs
Q3.Is the ampoule labeller machine suitable for different ampoule sizes?
Most ampoule labeling machines can be adjusted to accommodate different sizes of ampoules or small bottles within a specified range. If customers have specific needs, they can customize the production of ampoule labeling machines.
Q4.Does the ampoule labeling machine have a label detection function?
Ampoule labeling machines are equipped with visual inspection and removal systems to check the quality and accuracy of labels. Ensure the identification and rejection of products with incorrect labels or defects.