China Round Bottle Labeling Machine
The China round bottle labeling machine is an industrial labeler packaging machine,it belongs to the vertical round bottle adhesive labeling machine. It accurately and consistently applies labels to cylindrical containers, such as Boston Round Bottles, Cosmo Round Bottles, Cylinder Bottles, Pharm Round Bottles, Sauce Bottles and so on, and can be applied in full or half circles. It can be paired with ribbon coding machine and inkjet printers to achieve integration of labeling and inkjet coding. At the same time, the production date, production batch number, ingredient list, etc. are printed on the label, suitable for industries such as medicine, chemical industry, food, etc.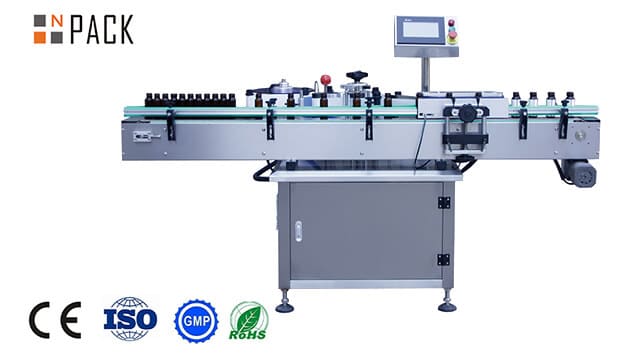 round bottle labeller machine  work process
To achieve automated labeling of cylindrical containers on circular bottle labeling machines, the following steps are required:
1.Bottle splitting mechanism: The containers are loaded onto the conveyor belt and then transported sequentially to the labeling mechanism.
2.Correction: Adjust the position of the container for easy labeling
3.Label allocation: Labels are usually stored on reels or spools. Then attach the labels one by one to the container.
4.Label leveling and pressing: After applying the label, a roller or brush can be used to flatten and firmly press the label onto the container
5.Container exit: The labeled container is then transported away from the labeling head for further processing or packaging.
Main Feature:
1. The equipment has high stability, good labeling effect, no bubbles or wrinkles, and high labeling accuracy
2. Color touch screen display, one parameter adjustment, simple operation, and high degree of automation
3. The body is made of 304/316 grade stainless steel, which fully meets GMP requirements
4. Servo motor and PLC control, high labeling accuracy
5. Automatic detection, no container or label.
FAQ:
1.What types of labels can the labeling machine attach?
The labeling machine can attach a wide variety of labels, including paper labels, plastic labels, holographic labels, transparent labels, etc. The selection of labels depends on the specific needs of the product and industry.
2.Can the labeling machine be integrated into existing production lines?
Yes, many labeling machines are installed in existing filling production lines to achieve seamless labeling and packaging processes.
3.Can the labeling machine handle labels of different sizes and shapes?
Yes, many labeling machines can be adjusted to accommodate various label sizes and shapes. Labels can be affixed on the front, back, surround or top, depending on customer needs