Jam Filling Machine
Jam filling machine belongs to food processing equipment, and its main function is to automatically fill jam or similar viscous products into glass jam jar and Mason jar. Such as mayonnaise, salad dressing, peanut butter honey, and so on. Automatic bottle feeding, automatic filling, and automatic bottle management; PLC and servo motor control, with heating and stirring functions, ensure uniform particle distribution during the filling process, stable and accurate filling. It can be paired with glass jar capping machines and double sides labeling machines to form a jam production line, improving the efficiency of jam production, and is widely used in the food and beverage industry.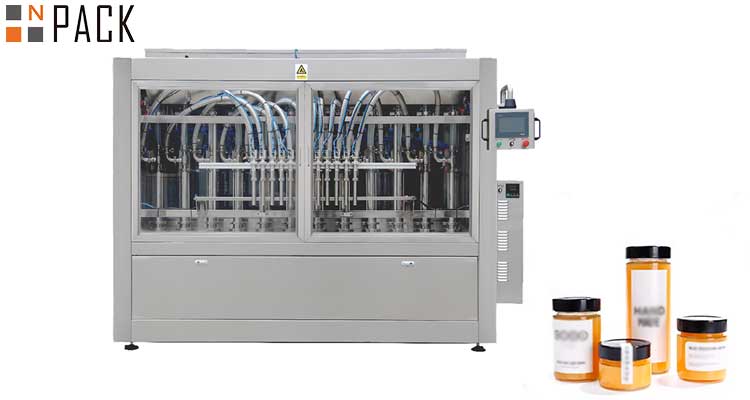 Mian Feature
1. The components in contact with the material are made of 304/316 stainless steel, using food grade hoses that comply with international hygiene standards.
2. The filling head adopts an anti drip filling device to reduce dripping and leakage during the filling process, ensuring filling accuracy, cleanliness, and hygiene.
3. The jam filling machine has a stirring function, making it more suitable for products with high viscosity and poor fluidity.
4. The jug filling machine is mainly controlled by a servo motor and PLC, which is easy to adjust, no bottles are filled, and the filling amount is accurate.
5. Equipped with a Siemens touch screen, the filling volume and filling speed can be adjusted arbitrarily, resulting in high filling accuracy.
6. The jam filling and capping labeling machine can be connected to the jam production line to meet the production volume needs of customers.
7. Equipped with heating and stirring functions, equipped with U-type tank to ensure uniform filling of jam particles, easy to clean, and no dead corners.
Workflow
Preparation and loading:
Load the prepared jam into the hopper of the filling machine and prepare for filling.
Conveying mechanism:
Empty cans or containers are placed on conveyor belts or rotating tables and sequentially transported to the filling mechanism.
The filling process begins:
The operator initiates the filling process through the control panel of the filling machine. The empty can is moved to the filling station, and the jam filling nozzle starts filling
Filling operation:
The volumetric metering system accurately controls the flow rate of jam into each container. To ensure that the jam is evenly distributed and filled in the same amount.
Capping machine (optional):
If the jam jar filling machine is integrated with the capping system, the filled container will be moved to the capping station. Mainly for sealing to ensure the sealing of the container.
Conveyor outlet:
The filled and capped cans move along the conveyor belt to the next stage of the packaging process.
Throughout the entire workflow, the automation and precision of the jam filling machine greatly improve the efficiency of jam production and meet the needs of jam manufacturers.
Npack is a professional high viscous sauce filling manufacturer. If you are interested, please contact us