bag labeling machine
Bag labeling machine is an automatic flat labeling machine that mainly pastes labels onto the top or bottom of various flat edge-sealed bags (such as zipper bags), stand-up bags, paper bags, boxes or other flat objects. It is mainly suitable for food and beverage, grain and oil, Pharmaceutical, daily chemical, chemical and other industries. The labeling process is automated, easy to operate, fast in production, and accurate in labeling. It is an ideal automatic label applicator machines for factory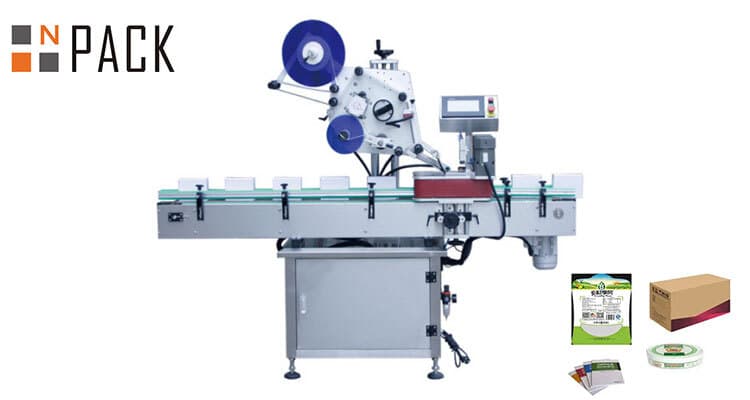 bag labeling machine Main Feature
1. Servo motor and PLC control, high labeling accuracy, ensuring correct placement of labels without wrinkles or bubbles.
2. It can handle various types of bags, including flat bags, self-supporting bags, angle support bags, etc., with a wide range of trials.
3. According to the customer's product and packaging design, label the bag on the front, back, top, bottom, or side to meet the diverse needs of the customer.
4. The pouch labeling machine can adapt to labels of different sizes and shapes, including rectangular, circular, and custom shapes.
5. Configure a color touch screen to quickly adjust label size, position, and direction, making it simple and easy to operate
6. The entire machine is made of 304/316 grade stainless steel material, which meets GMP standards and is clean and tidy
7. The labeling height and angle can be adjusted, and the conveyor belt and labeling speed can also be adjusted; Tag counter, easy to manage, easy to maintain, and long service life
Bag Labeling Machine Work Flow
1. Label roll loading: The label roll is loaded onto the labeling mechanism of the labeling machine.
2. Bag feeding: The bag is fed into the conveyor system of the machine and separated by a pagination mechanism with appropriate spacing to ensure accurate label pasting.
3. Label application: The flat labeling machine attaches the label to the bag and presses the label tightly through a roller to remove bubbles.
4. Product discharge: The labeled bags are transported out of the machine, and after labeling, they can be boxed or further processed according to specific production requirements.
 Optional Function and components
1. Ribbon coding machine: can print production date and batch number
2. Industrial zebra engine: can be used for transcoding printing, docking with system software, etc., and integrated into the labeling machine for real-time printing function
3. Transparent label detection: Applicable to all labels, including gilded, transparent, paper, or composite S material labels. When changing different labels, there is no need to replace the sensor. Transparent label detection on the lower lining of the transparent label
4. Visual inspection removal: It can detect whether the label is present or not, and whether the information printed on the label, batch number, and content are correct
5. Heat transfer intelligent coding machine: It can print QR codes, barcodes, production dates, batch numbers, and other printing functions on label paper, and can achieve product traceability, anti-counterfeiting, and anti-counterfeiting
6. Inkjet Printing Machine:Realize production date, batch number, and other information while labeling
FAQ :
Q1.What should be considered when choosing a bag labeling machine?
When choosing a bag labeling machine, factors such as production volume, type of bag used, label size and shape requirements, venue, and budget should be considered·
Q2. Is the bag labeling machine compatible with other packaging equipment?
Bag labeling machines can be integrated into automated packaging production lines and can be paired with packaging equipment such as filling machines, capping machines, and unboxing machines to improve                  production efficiency and simplify packaging processes.
Q3. What types of labels can the bag labeling machine attach?
The bag labeling machine can attach various types of labels, including self-adhesive labels, pressure sensitive labels, surround labels, front and back labels, etc,