lotion Filling Machine Description
The automatic piston pump linear lotion filling machine is equipped with a feeding pump, which has heating and stirring functions, making it convenient for feeding and filling.Different filling ranges can be selected, ranging from 10ml-5l, Npack can provide one-stop filling solution, support OEM/ODM serve, multiple filling nozzles can be customized according to customer production needs. Widely used for filling various semi fluid, paste, viscous substances, sauces, and various granular materials, such as shampoo, hand sanitizer, honey, jam, tomato sauce, chili sauce, bean paste, shrimp sauce, apple sauce, and salad sauce.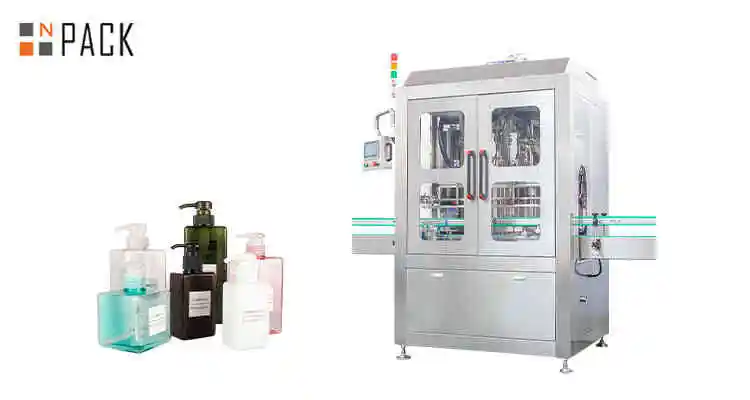 lotion Filling Machine Main Feature
1. The filling machine can achieve accurate and consistent filling volume for each container. Filling accuracy can reach 1%
2. The  filling machine lotion can handle containers of various shapes, sizes and materials, such as glass jars, glass bottles, plastic bottles, etc., as long as the parameters are set on the touch screen, it can adapt to different packaging requirements.
3. Filling parameters such as filling volume and speed can be adjusted to meet the specific requirements of different emulsions and containers.
4. Adopt PLC programmable control system, touch screen interface, high degree of automation, greatly improve production efficiency
5. Cream loton filling macine is made of 304/316 grade stainless steel, in line with GMP standards, which is conducive to maintaining product purity and preventing cross-contamination
6. Color touch screen, directly adjust the filling parameters, easy to operate
some FAQ about the lotion filling machine:
1. What is a lotion filling machine?
Lotion filling machine is a special packaging equipment for filling thick liquid cream, body and thick lotions. It is mainly used to accurately fill lotion or liquid cosmetics into bottles, cans, pipes or containers.
2. How does the lotion filling machine work?
Lotion filling machines usually use pistons, peristaltic pumps or gravity feeding systems to fill lotion into containers. The filling speed and filling volume are set through the touch screen, and the entire filling accuracy can reach 1%
3. What types of containers can the lotion filling machine handle?
The  filling machine can handle various types and sizes of containers, including bottles, cans, tubes and extrusion bottles. Npack mainly customizes production machines based on customer material production and containers to meet diverse customer needs. Customization options may include container size adjustment, nozzle configuration, and automation functions.
4. Can the lotion filling machine handle different types of lotion and viscosity?
Many  filling machines have a wide range of applications, and can handle all kinds of lotion viscosity, from thin lotion to thick cream. Simply adjust the parameters and component settings of the filling machine to adapt to different product concentrations.