Detergent Filling Machine Description
detergent filling machine is numerical control liquid filling machine designed and manufactured by NPACK. The entire machine is made of 304/316 grade stainless steel, which meets GMP standards. It is controlled by PLC and servo piston system, with accurate filling measurement and suitable for filling various bottle types, including special-shaped bottles; No bottle, no filling, no dripping, high-precision filling, avoiding waste, and high degree of automation; It is also possible to form detergent filling production line with detergent bottle capper machine and detergent bottle labeller machine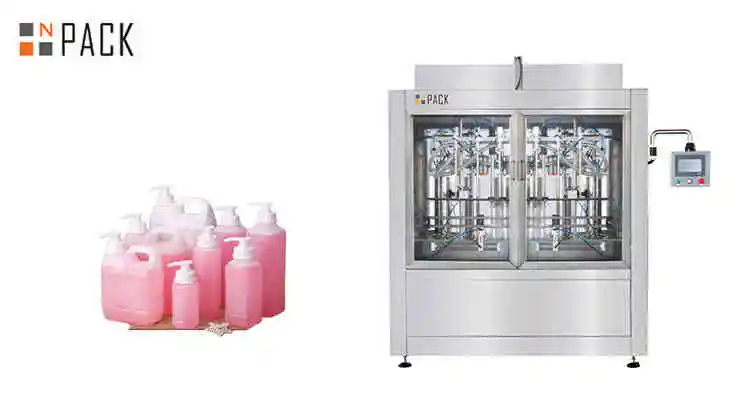 detergent filling machine main features and components include:
Hopper: The viscous liquid filling machine is equipped with a hopper called a hopper, which is used to store detergent
Filling nozzle: The filling station is composed of multiple filling nozzles, which are customized according to the customer's production volume. Its main function is to distribute detergent into the bottles.
Transportation system: Empty detergent bottles are transported from the input end to the filling station, and then to the output end. High degree of automation with minimal manual intervention.
Liquid level sensor: used to monitor the liquid level in each bottle. Once the required liquid level is reached, the filling process will automatically stop.
Control panel: Set and adjust various parameters, such as filling volume, filling speed, etc
PLC and servo filling system: used to control the entire filling process and achieve high-precision filling
Overall, detergent filling machines are packaging machines that improve production efficiency and save production costs, playing a key role in the detergent manufacturing industry. It is an important component of modern detergent production lines.
detergent filling machine main feature
1. All parts in contact with materials are 304/316 stainless steel, with a long service life and compliance with GMP standards
2. Adopting PLC control and servo piston system, the filling amount of cleaning agent can be controlled with high filling accuracy
3. The cleaning agent filling machine adopts a user-friendly design, with a concise and clear interface and easy operation
4. The integrated design machine has a compact structure, beautiful appearance, space saving, and convenient layout.