The motor oil filling machine is manufactured by npack according to the characteristics of the oil. It is suitable for filling various viscous liquids. The whole machine is made of corrosion-resistant material, which is corrosion-resistant and durable. The contact with the material is made of 304 or 316L stainless steel, which is corrosion-resistant and easy to disassemble. Simple, in line with GMP standards. There are no bubbles or drips in the filling process, and it is suitable for filling various bottle types of 50-5000ml. It is suitable for filling containers of different specifications. The filling specification can be switched within a few minutes, with short filling cycle and high production capacity. . There is no need to add spare parts to change the filling specification, it only needs to be adjusted. The production machine can be customized according to the customer's production volume, supporting 6/8/10/12/18 filling heads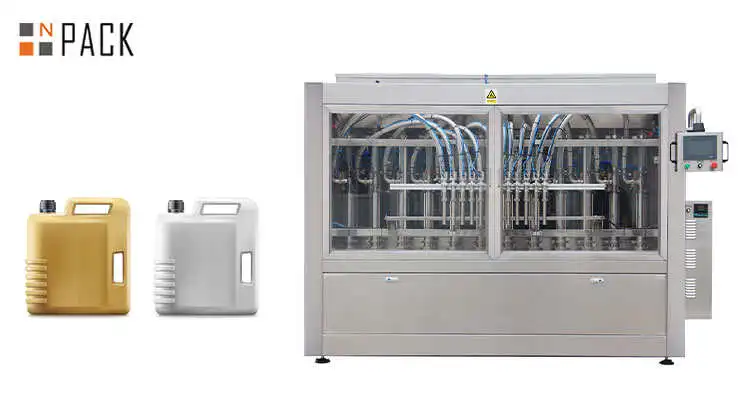 Main Feature
1. The motor oil filling machine is a piston type filling machine with high filling precision and fast filling speed.
2. Equipped with PLC control system, one-key adjustment, high degree of automation
3. The filling head is equipped with a drip function, which is anti-drip and has no drip phenomenon.
4. The whole machine is suitable for bottles of different sizes, and the filling volume can be set freely and automatically adjusted, which is convenient and quick. Can be completed in a short time
5. The contact with the material is made of 304 or 316L stainless steel, corrosion-resistant, easy to disassemble, and conforms to the GMP standard
6. The Motor oil filling machine runs smoothly and has stable performance. It can be used in conjunction with packaging equipment such as capping machines, labeling machines, bottle washing machines, and palletizers to improve production efficiency.
Motor oil Filling Process
Manual bottle placement → automatic detection of bottle mouth and nozzle drop position → automatic filling → automatic cap placement → automatic capping → automatic labeling and coding → manual palletizing