What is drum Filling Machine?
NPACK designed and engineered the drum filling machine for the purpose of filling liquid into 20L to 300L drums. the drum filler is a type of liquid packaging machine that fills drums with liquids from 20L to 300L, the filling weight can be set on HMI. Npack built different types of drum filling machines , such as automatic drum filling machines, semi-automatic drum filling machines, and manual drum filling machines. All of these machines are used in various industries, including chemicals, petroleum, food and beverage, and pharmaceuticals.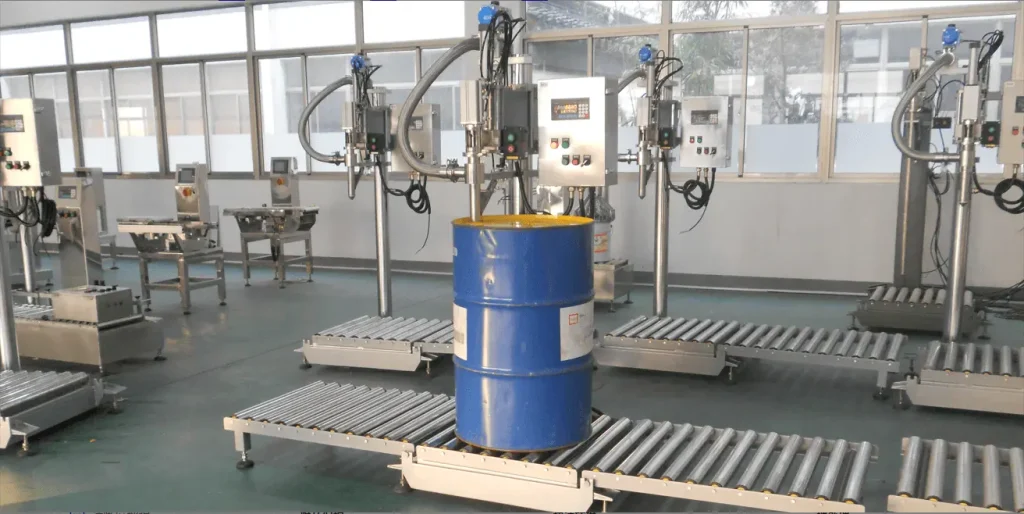 How a drum filling machine working?
The working principle of a drum filling machine depends on the type of machine. Here we take a semi automatic drum filling machine as an example, in a Net weight liquid filling machine, the drum is placed on a scale and filled until it reaches the desired weight, the scale normally is under the roller conveyor. It is a simple working way, PLC control, HMI operation, set the desired filling weighing, when the drum is on the top of scale, the drum filler start to working, filling nozzles insert into the drum for filling, the filling nozzle are moving up according to the level of the liquid, when the filling weight reach the weight, the filling valve will shut off.
No matter automatic or semi automatic one, there are some key factors we need to concern, the scale accuracy and quality is important, here we recommend the Mettler-Toledo, and the filling valve and construction materils.Below is the video for the drum,pail filling machines.
Tips and features
Here are some key features and components commonly we need to know before we buying a drum filling machine
Filling Nozzles: These are the main parts except the weighing scale, it is responsible for dispensing the liquid into the drums. the filling nozles can be longer , shorter, one head, double heads or more multy nozzles.The Diving nozzzles and shut off nozzles are workable for foamy liquids.
Weighing and Metering Systems: we already mentioned this points on above, it is scale for dosing the liquid, the good quality, accurate scale is the key technicals of the weighing drum filling machine.
Conveyor Systems: Npack adapt the 304SS constuction material to build the roller conveyor , it is ensure the transferring stably and long life.
Control Panel: HMI with the filling stage of the drum will show clearly on the screen, it is not only an operation panel, also be a monitor for working of the equipments
Safety Features: we designed the eqipments with emergency stop buttons, interlocks, and guards to protect operators and prevent accidents,also the filling nozzles will not insert if any prevent power, that will protect the drum and workers as well.
Cleaning and Maintenance: reasonable designed and workable for a CIP system.