Npack offers a series industrial labeling machine for food, daily chemical,pharmaceuticals and electronics products. Npack combined the leading engineers and label printing factories in shanghai china , and base on this we manufacture the high quality and accurate label applicators and help customer design and printing high quality self adhesive labels.
Labeling machines are belong to packaging equipments fields, we also call them labelers, labeling applicator. It is an industrial equipment for applying labels to the surface of different products, packages, or containers, such as bottles, boxes, pouches and cartons.Below are some of the samples for labeling machine application.some are on body, one side or two sides, front and back, top and corner.
We can find , the labeling machines are  widely application in the fields of food and beverage, pharmaceuticals, cosmetics, chemicals and logistics.it is belong to the packaging equipments, and there are some different types of industrial labeling machine.From its automation degree, having automatic, semi auto and manual one; From the labels materials, have self adhesive labeling machine( sticker labeler),Paper wet glue labeling machine, Opp labeling machine, PVC label sleeving machines.Below we will introduce sticker type label applicators to you.
Self adhesive Labeling Machine
Self-adhesive labeling machines, also known as sticker labeling machine.These equipments apply a pre-glued, pressure-sensitive label on the bottles,containers,packages.The sticker labeling machine is one of the most popular industrial labeling machine.Why it is so popular? for it is almost can apply a label, or two labels even 3 labels on the containers or packagings.From above photos we can see most of them are using in the sticker labeler.For more sticker labeling machine information you can check our products list.
Smart control system makes the industiral labeling machine working efficient
The PLC control system and servo motor driven the labels working are the popular system for a fully automatic labeling equippment, the labeling applicator is not working as a labeler, it is function including  scanning,printing and monitoring systems , it works as a product tracking system with the industrial products.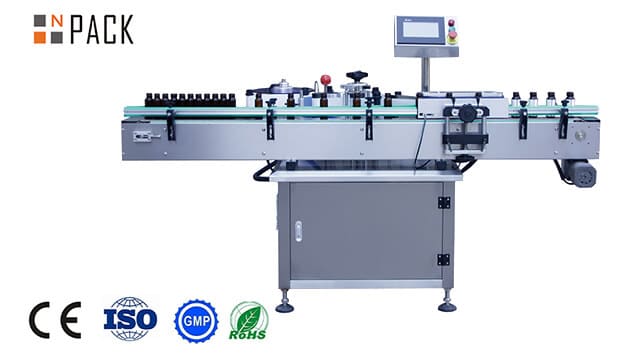 NPACK 's labeling machines also have several optional features, including detection, alignment, review and scanning of individual faulty products, and printing is one of the popular function, it is not only printing the date or number,a series number, bar code.Today's industrial sticker labeling machines required high precision, speed and versatility
Npack offers all types of industrial labeling machines
Self-adhesive sticker labels can be applied efficiently to all types of packagings and containers ,such as bottles, cans, ampules or vials as well as special formats such as box, carton pouch and bags . here are some of our sticker labeling machines which with a standard features, high speed, high accuracy and with a good price.
Ampoule Labeling Machine
bag labeling machine
China Round Bottle Labeling Machine Automatic
Front Back Labeling Machine Inline High Speed Labeler